The Dynamics .....

Circa 1963-1964 Paul joined The Dynamics who were then resident at The Plainsman in Christchurch. He replaced rhythm guitarist Denis Moir. The group was short on vocal strength and it was decided to enlist the services of well-known Christchurch vocalist, Phil Garland (also now famous for having been Diane Jacob's boyfriend in the old days) - Diane of course went on to become the legendary Dinah Lee.

The line-up was (from top to bottom) Peter Hansen (Bass), Derek Wright (Lead), Paul Muggleston (Rhythm), Pete Ward (Drums), Phil Garland (Vocals).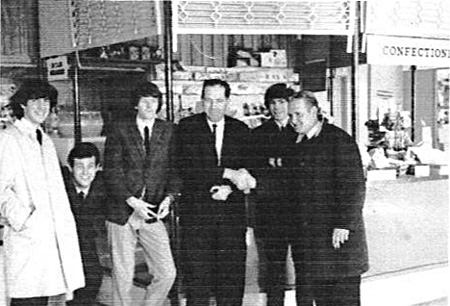 Peter Hansen, Phil Garland, Paul Muggleston, Trevor King, Derek Wright and Pete Ward

Paul thinks this shot of the group (with then vocalist Phil Garland, squatting down second
from left) was taken outside promoter Trevor King's local Tivoli Theatre "headquarters".